The NSHS enables non-government agencies such as seed companies to carry out seed sampling, inspection, or laboratory testing for the issuance of phytosanitary certification.
There are four accreditation options:
Seed Health Testing
Phytosanitary Inspection
Seed Sampling for Seed Health Testing
Visual Inspection of Seed for Phytosanitary Certification
This can have major logistical benefits in eliminating delays in the process of shipping seed lots, resulting in a more efficient business model and better inspection facilitate logistical planning and can help avoid shipping delays.
Eligible Organizations
Accredited entities (AEs) are any public or private organization (or individual) that meets the requirements for accreditation as outlined in the Standard. AEs will be allowed to perform only those seed health tests and/or field inspection procedures for which they have been accredited. AEs shall submit to a regular program of surveillance audits and proficiency testing as required by the Administrator.
---
Organizations eligible to become accredited
Seed Company
Private Seed Testing Company
Private Agricultural Consultancy
Certification Agency
State Agency
University Laboratory
Other organizations
All NSHS auditors will have had the following qualifications:
Documented evidence of Quality System training by qualified auditors relevant to the accreditation options in the NSHS Accreditation program.
Conducted practice audits in the NSHS Accreditation options for which they are to be certified, as arranged by the NSHS, or has documented experience of conducting audits of systems comparable to the NSHS accreditation options.
ADVANTAGES OF
NSHS Accreditation
Timely reporting of field and test data
Prevents potential for mixing crops from infected fields with non-infected fields.
Allows early estimation of eligible production for export.
Facilitates accelerated breeding and quick inventory movements.
Data are reported in a standardized format.
Prompt reporting of field inspection data: external inspectors usually have 10-120 day delays in reporting.
Well trained internal inspectors can quickly identify and isolate infected fields and implement containment and eradication measures.
Timeliness of documents for shipping
NSHS visual inspections can be scheduled the day prior to containerization.
Companies that conduct their own visual inspections no longer have to wait to request them until the inventory is on the warehouse floor. They can schedule containers and shipments around state inspections.
Reduces cross-docking.
Accurate inspections and tests performed by trained personnel
Inspectors are trained and tested for disease identification expertise
Trained laboratory technicians supervised by qualified plant pathologists
Workforce development-improving talents of employees
Improves in-house skills in field scouting, pest diagnostics, inspection and sampling methodologies.
Accreditation Process
Initial USDA-APHIS Handling of Application: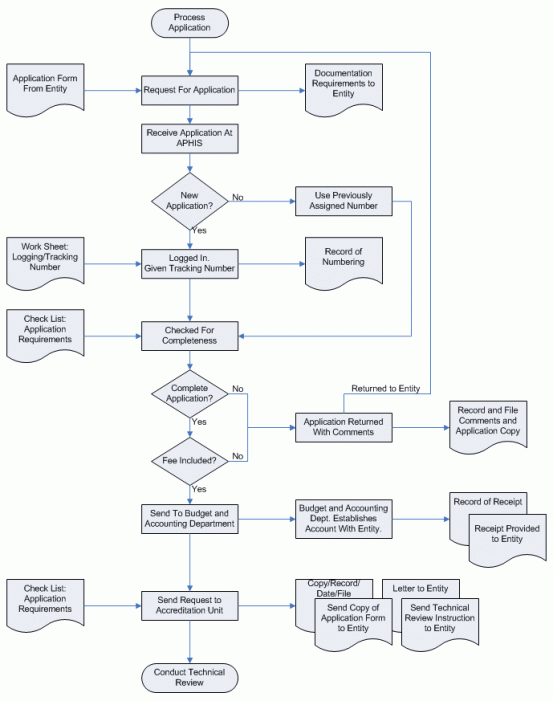 APHIS/Accreditation Unit Review of Application Documents: